There are Thousand of Topics that come for mightytext for iPhone. Yes, undoubtedly it is a very popular app for texting message from a computer in syncing with android phone and number.
We know there are many popular apps over the internet. But we can't use all of them when you are using different os. Mightytext can be called that type of app which has no ios version.
What is Mightytext?
Mightytext is an android app which helps you to massage from your pc/desktop by syncing. BY using this you can also send a message to any device using the current Android phone number. This is not the only task of the app. Thre are many features of the app.
Basically, Two former Google employee called Maneesh Arora and Amit Sangani developed the cross-platform app.
As a cross-platform app, there is also the available extension for browsers for Chrome, firefox, safari, Opera as well as Internet Explorer.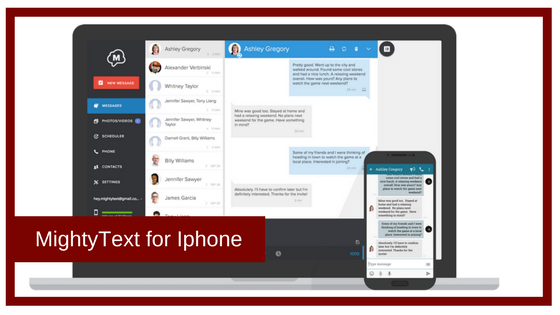 Features of Mightytext:
Though, its main feature is massaging; there are almost many of uses of the app. It is able to do sync photos and videos and store photos and videos.
Call Notifications
When some will call you on your android phone you will get the notification.
Phone Battery Alert
How much charge you have? you can easily know it from your desktop & tablet.
Text Directly From Gmail
It is now easy to send SMS directly from Gmail on your computer.
PowerView
You can see multiple conversations and carry on these conversations.
There are also some Features of the MightyText.
Schedule massaging.
SMS <-> Email Sync
Mighty Themes
Massage templates etc.
These all are in Pro version.
Mightytext for iphone:
I already told there is no ios version available for the app. Maybe they will / won't lunch the iphone version. But the task of the app is still important for users. so, I am presenting some alternative apps of Mighty text. You may check-
Mightytext Alternative for Phone:
Mysms:
Though this is not yet popular among the ios users, still this is best alternate ios app of the mightytext alternative. You can check mysms Messenger from here.
AT&T Messages:
During the time of using the apps, you need to turn off iMessage. Remember these apps are not same as MIghtytext, But I tried to gather the best alternatives.
Users Review of Mightytext:
"An entirely satisfactory way of linking your phone through your home wifi to do basic text messaging and communicating. I've used it for a few years and keep coming back to it as it has reliability, consistency and an archive option. I've not used anything more than the free version but now I am thinking I could as the longer archive option does interest me. Recommended."
—> Tom
"It is very convenient to respond to or post new text messages while you are sitting at your computer. The problem I find is it is not very reliable. It's a roll of the dice when I hit the enter key whether the message will be sent or not. Many times I get the warning about waiting for the phone, so maybe there is a problem with my phone. If there is, I don't know what it could be."
—>  Daleachamberlain
Final Verdict
Finally, it needs to tell that there is no version of mightytext for iPhone user. But there are some premium, freemium as well as free alternatives for this app. If you have any question related the app just comment us. If you enjoyed or learned a little share with your friends.
Wifikill is updating tech section regularly about various apps, games, and tips. If you have any specific inquiry, please feel free to message us.