WifiKill is the best wifi controller app for any Android device. It can disable internet connection or control over a device's network activity when the device is connected to the same network. WifiKill Pro apk is the best wifi app for Android to control wifi network and modify the bandwidth usage.
WiFiKill apk free download is the best choice for Android to allocate more bandwidth to yourself in any shared WiFi network!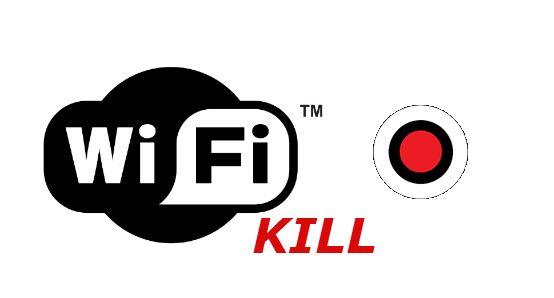 Suppose you are using any shared wifi network or in any school or college open wifi network. Sometimes you may face the reduced speed of WiFi network due to high usage and abuse of the wifi network. WiFikill app will help you to cut down on other connections and enjoy the full amount of bandwidth for yourself only! This app can also gather information about the device network system(Like-NetBIOS names).
WifiKill PRO APK requires ROOT access! That means your device must be rooted to use the wifikill app. Wifikill no root apk download is not available right now. The root is needed because the wifikill app needs superuser permission to modify several system data. It is also required for getting the network information about other devices connected to the shared network.
Bonus: SnapTube APK Free Download 2017
---
Free Download WifiKill Pro Apk
---
WiFiKill PRO APK free download is not available in Google Play Store(Android Market). There are many sources of wifikill pro apk free download. But some of them are fake and invalid! There are also many infected wifikill apk over the internet. As this app needed root, some of the apps include malicious scripts inside it. It can harm your mobile.
So, always download wifikill pro apk from any trusted site like – www.wifikill.net
You can do several functions using the wifikill app. This app can grab all of the connected devices to the same network. You can look up the websites visited by the grabbed device. Wifikill can also show the number of transferred Bytes from any device. You can quickly switch and kill any connections by using the wifikill app.
---
Features Of WifiKill App
---
➡ WifiKill Pro apk is an entirely free app for wifi network controlling. You need not pay any single penny for using the wifikill app.
➡ It can access all of the connected devices. You can see the websites visited by other seized devices with this app.
➡  Wifikill app can monitor the transferred data by any device on the same network. You can look up any device's ingoing or outgoing data amount.
➡ It can locate all the devices connected to any shared wifi network. That means you can look up who is using your bandwidth!
➡ Wifikill Pro APK can easily cut any connections of the other user in a common wifi network! If you are searching how to kick someone off your wifi with android, then try wifikill app for android free download.
➡ This app is smooth and very simple to use. No lags or drags are included.
➡ Wifikill APP can also block any device to get connected to any wifi network, though it has passwords! (how to block wifi users on android)(block app wifi access android)
➡ It works on Tablets too. You can also use your TAB for controlling the WiFi network and cut off others wifi networks.
These all are the amazing features of the wifikill apk. There are also many other functions, underneath. You will find out all of the exclusive and new functions of the wifikill app. If you are looking for "How to disconnect other devices from wifi?" "How to kick someone off your wifi with android?" or "How to block wifi users on Android", then wifikill is the best option for you.
Caution: We are not the developer team of the Wifikill APP, or not holding any copyright permission of this APP. WifikiPro APK was developed by the user "bponury" from Poland in the XDA Developers forum.
---
What's New!!

---
The new version of WIfikill apk has recently uploaded by the author. It contains lots of features regarding the most safer way of interaction. WifiKill apk for android 2.36 free download is now available on our site. It is the free wifi app for android download.
☑ It improves grab/kill effectiveness
☑ Fixed killing problem because of IP tables rules
☑ Fixed grab all button activity and status device count
☑ Fixed URL list scrolling issue in this wifikill apk version.
☑ Fixed some devices missing upon start
☑ Added UDP protocol blocking for do block more easily.
☑ Fixed Force-Close when the device name was empty or get stuck!
☑ Fixed Service Fail upon start.
---
How To Use Wifikill App?
---
It is much easy to download and use wifikill apk on any Android device. You need to follow some easy steps to use wifikill apk for disconnecting or controlling wifi network.
First, download the wifikill pro apk from any trusted site. Like: https://wifikill.net
Second, Now install the wifikill pro app like other 3rd party software. If it shows, "Administrator Blocked" then you need to do these steps >>
Go to Settings then go to the "Security" Tab. In "Security" TAB mark the: "Unknown Resources."
Now, Open the WifiKill APP and you will find the device list. From there you can do what you want to do with the connections of other devices!
---
How To Use WifiKill Without Root?
---
Many of our users have asked this question "how to use wifikill without root?". Some also search as "download wifikill apk no root" or "wifikill without root" on our page. But, unfortunately, there is no way of using WifiKill Pro APK without rooting. But you can still have the chance to block app wifi access android. How to kick someone off your wifi with android? if the wifikill is not working?
There are other ways to block app wifi access android and to kick someone off your wifi with android. You can use "NetCut" or by using the Router IP address. Click here for more-